Edentulism — Still a Real Problem
"Edentulism," the complete loss of all permanent teeth, can substantially reduce quality of life, self-image, and daily functioning. At the dawn of the 21st Century, with all the know-how necessary to ensure dental and oral health, complete tooth loss is still a big issue. In the U.S., 26% of adults between the ages of 65 and 74 years have lost all their teeth. In some other countries, the percentage is even higher.
Not only do these individuals suffer a reduced quality of life, but they also are at risk for nutritional problems and multiple systemic (health) disorders. The ravages of untreated periodontal (gum) disease and dental caries (tooth decay) are direct causes of tooth loss. But what other factors drive complete tooth loss? Lack of access to education, preventive care, exposure to fluoride, dental treatment and adequate financial resources all play a role.
An affordable and elegant solution for tooth loss
Over 25% of Americans have lost their teeth by age 65. Nick is similar to many elderly Americans who have lost most, if not all their teeth. His few remaining teeth were no longer functional or attractive. Removable full dentures dramatically transformed his smile and improved his oral and general health. As you can see he is a proud American, who now enjoys eating, talking and smiling again — with confidence.
When Teeth Are Lost, Bone Is Lost
The problem of tooth loss actually extends into one of bone loss. It's a "You scratch my back and I'll scratch yours" story. Alveolar bone (from "alveolus" meaning sac-like) surrounds, supports and connects to the teeth via the periodontal ligament ("peri" – around; "odont" – tooth). Though we sometimes think of bone as a hard, static substance, it is in fact always changing and reforming. But to keep doing this, it needs to receive a signal, or stimulus. In the case of alveolar bone, that stimulus comes from the movement of the periodontal ligament attaching it to the teeth. When the teeth are lost, the stimulus necessary to keep the alveolar bone healthy disappears and the bone itself resorbs or melts away. Worse yet, when pressure is transmitted by dentures through the gum tissues to the jawbone, it atrophies further ("a" – without; "trophy" – growth), accelerating its loss.
Elegant Solutions
Removable full denture prosthetics (false teeth) can be challenging for both doctor and patient. A great deal of art and experience goes into their molding and fabrication, and wearing them comfortably takes practice. Yet, when well made, they can be elegant solutions for replacing missing teeth and the surrounding bone and gum tissue. They are often a very viable option for restoring function and appearances after complete tooth loss.
Full dentures have not held a place of reverence in dentistry compared to fixed bridgework,
implants, and cosmetic dentistry. Many dentists have avoided incorporating removable dentures into their practices, yet these devices remain a viable and significantly more affordable alternative for restoring function and well-being.
Preparing the Way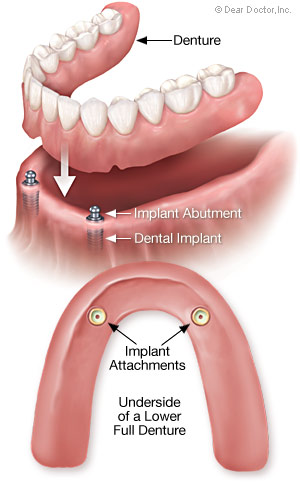 Unless individuals are prepared and counseled by their dental health professionals, transitioning to full dentures can be traumatic — both physically and psychologically. When loss of all one's teeth is imminent, pre-planning can minimize trauma and enhance acceptance by providing more time to learn how to "wear" and use one's new teeth.
Transitional, also known as "immediate," dentures can be fabricated ahead of time in anticipation of tooth loss so that at no time is one without teeth. A good guide for making aesthetic and functional dentures is of course your old teeth — whether they are natural or a temporary set of false teeth. Photographs can be extremely helpful to this process as they provide a glimpse of how you used to look, want to look again, or even how you might want to change your appearance.
Immediate dentures also facilitate the healing process, protecting the healing tooth sockets immediately after tooth extraction. Inevitably there will be some bone loss as the tissues heal and re-mold themselves. This inevitably involves tissue shrinkage, most of which occurs in the first year. Thus the immediate dentures will need to be relined after 6-9 months, or remade in order to conform and adapt more accurately to the healed state.
Alveolar bone loss can be minimized during the extraction process by bone grafting techniques to maintain bone volume, which can be critical to denture stability. Most often, the bone grafting materials are obtained in a sterile powdered form from either human (allograft) or an animal species (xenograft). Using these materials, bone grafting is a relatively simple procedure that acts as a scaffold upon which the body builds and maintains its own bone. Bone loss can also be prevented by retaining well-positioned tooth roots — removing the crowns of the teeth, but retaining and submerging the roots beneath the gum tissue. In addition, bone loss can be both prevented and stabilized by strategically placing as few as two traditional dental implants, or by using mini-implants, to transmit the biting forces through the implants instead of directly onto the bone via pressure from the dentures.
Foundations
Making removable full dentures essentially involves rehabilitating the stomatognathic system ("stomato" – mouth; "gnathic" – jaws) — the jaw joints, ligaments, nerves, and muscles — to work in new ways. This reorientation involves learning to help stabilize the dentures and manipulate them subconsciously to allow speech, biting and chewing, smiling and laughing, and enjoyment of a proper diet and nutrition. With a little practice, denture-wearers can look and feel completely normal — enhancing both social and psychological well-being.
The foundations upon which dentures rest are the arch-shaped residual alveolar ridges, the structures that used to support the teeth. In addition, upper dentures are supported by the immovable part of the roof of the mouth or hard palate, and extend around the sides of the ridges into the turn of the cheeks, an area known as the vestibule. This creates a rather large surface area onto which a well-fitting full upper denture can seal via a suctioning effect, enhancing stability.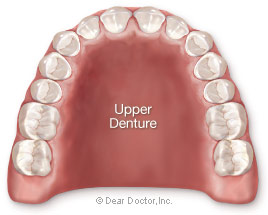 Note the size difference in surface area between an upper and lower denture. In the upper denture, the palate provides a stable, rigid surface that creates good suction particularly when the gum ridges are substantial. The lower denture has much less surface area and can be more easily destabilized by the tongue, making it more difficult to wear. This can cause anxiety when speaking, eating and chewing.
The lower residual alveolar ridge has significantly less surface area upon which to seat and stabilize a denture. The more vertical and hill-shaped the residual lower ridge, the more surface area a lower denture can be made to rest upon, and the more stable it will be. Conversely the flatter the ridge, the more unstable the lower denture. Studies have shown that lower dentures in particular are more stable and in turn stabilize the jawbone when supported by and attached to at least two implants.
The dentures must also function and balance in the same space as previously occupied by the teeth, between the muscle forces of the lips, cheeks and tongue. By replacing teeth, full dentures also support the facial skeleton and soft tissues of the lips and cheeks, rejuvenating appearance and functionality. Wrongly shaped and sized, dentures can slip and move around.
Horseshoes — By taking detailed impressions (molds) of the residual ridges, denture bases can be made; the bases, made of a light cured plastic resin, become the fitting surfaces of the dentures. Horseshoe-shaped rims made of wax are then attached to them, which simulate the position of the teeth and gums. It has been said that "horseshoes is a game that's simple to play, but tough to master," and the same applies here. The rims require experience to position correctly, for ultimately they will form the basis of the new position of the teeth and restore the dimensions of the face. Too much vertical opening can cause muscle pain and spasm, and excessive pressure on the remaining jawbone. If the rims are too wide they will also encroach upon the space for the lips, cheeks and tongue. If too narrow or short they will not be supportive enough and poorly tolerated.
Ensuring Denture Success
What follows is a summary of the steps dentists take to construct removable full dentures that look and feel great.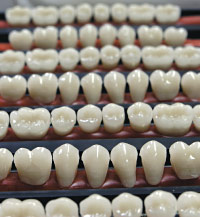 Your dentist and laboratory technician choose from many different prosthetic tooth sizes and shapes to create your natural looking smile. Past photographs are important so your dentist can re-create your smile.
Positioning the teeth
A number of different estimates have to be made to determine where to place each tooth in a set of full dentures and how the upper and lower teeth should line up in relation to each other. Facial features are used as landmarks, and photos taken before the teeth were lost can help guide this process. Some important aesthetic and functional considerations are taken into account: What size should the teeth be and how much of them should show? How far forward or back from the lip should they be? How much space should be left between the upper and lower teeth when they are at rest? To some extent, a dentist has more flexibility with a completely edentulous (toothless) individual. For example, some individuals who have had a gap between their front teeth all their lives want it to look exactly the same. Others may want to have more natural, less uniform-looking teeth. Because there are a variety of options within what tooth positions will work, an experienced dentist can use clinical acumen and an artistic eye to achieve the desired results.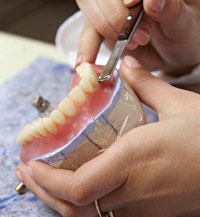 Setting up your teeth to create your smile and bite is as much an art as it is a science.
Simulating natural gums
The amount of gum tissue that shows when a person speaks or smiles depends on the natural position of the lip. It is particularly important to make artificial gums on dentures look realistic when the individual wearing them has what's called a "high lip dynamic" (when the lip rises above the teeth, exposing the gum). Many colors and textures can be added to simulate the appearance of real tissue. Again, good photos of the individual before tooth loss can be useful in helping to achieve this effect. In addition, the little ridges of tissue in the palate behind the upper front teeth (called palatal rugae) can be added to the denture for clarity of speech, particularly the "th" sound; ease of chewing lumpy food; and reduced spitting when talking.
Balancing the bite
Probably the most important aspect of full-denture design and fabrication for a clinician to master is balancing the bite. The upper and lower dentures must come together in order to stabilize each other, so that biting, chewing and speech are normal.
Maintaining the outcome
Ultimately everything changes, including prosthetic (false) teeth and the real tissues and bone on which they rest. A person with dentures must visit the dentist regularly to ensure continual good fit and function of the dentures, and health of the denture-bearing tissues. Bone loss is the enemy and its rate is unpredictable, varying from person to person. So professional monitoring is essential.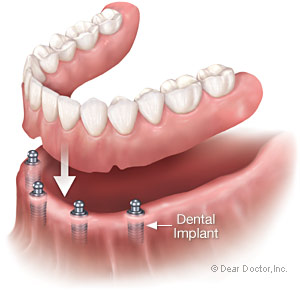 The greater the number of implant attachments, the more stability a denture will have during function.
Finale
Once the teeth have been placed in the position initially dictated by the wax rims, they are placed into the mouth for fit, function and looks. The dentures are then "processed" in a dental laboratory. The wax is exchanged for resilient oral tissue colored (pink) denture plastic, methyl methacrylate. The teeth, of the same material, can be artistically characterized to make them look natural.
A small percentage of people cannot tolerate removable dentures at all, sometimes because they dislike having their palate covered. For these individuals, hybrid forms of implant-supported dentures offer a good alternative to full dentures. Strategically placed dental implants rigidly support the dentures so that the palatal tissue does not have to be covered, while still replacing the teeth and providing necessary support for the face and lips.
The foundation of success with removable full denture prosthetics (false teeth) is a partnership between a talented clinician and a willing patient. While there are clinical rules and oral landmarks to use as guides, it takes a certain feel, art, and experience for a dentist to figure out how to make a set of upper and lower teeth that fit, function and look normal — especially when all the natural teeth have been missing for a long period of time. And it can be difficult for an individual to get used to wearing false teeth where natural teeth used to be. But hope springs eternal, dentistry is resourceful, and human beings are highly adaptable.
————–